The Digital SAT Hub
Your complete guide to the upcoming Digital SAT.
Changes to the SAT
Many aspects of the SAT will remain:

The content of the SAT (and PSAT) will remain tied to knowledge and skills students learn in high school.
The SAT will still be scored on a scale of 1600.
Assessments will take place in schools and test centers as before.
Students who are approved for 50% and 100% accommodations will receive them.
Other aspects will be new and different:
The exam will be shorter–about two hours, as compared to the current approximately three hours.
Students will have more time per question, so the pace will feel slower.
Reading passages will be shorter and tied to a single question, rather than a set of 10-11 questions tied to a passage.
Calculators will be allowed on all Math sections. A graphing calculator will be built into the testing app, or students can bring their own.
Scores will take a few days to come back, rather than 10+ days.
Students will bring their own device (laptop or table) to take the exam, or they will be able to use a school-issued or College Board-provided device.
The test will be adaptive, so the questions a student sees later in a section will change based on how they did on questions earlier in a section.
Timeline
March 2023:

The digital SAT becomes available internationally.
Fall 2023:
The PSAT at all levels will be a digital exam.
March 2024:
The digital SAT rolls out in the US.
What does this mean for the Class of 2024?
This class will not be affected by the changes. They should continue or begin test prep with the current formats.
What does this mean for the Class of 2025?
The digital exam will be available in the spring of their junior year. By the time they begin test prep (in spring of this year, summer between sophomore and junior years, or fall of junior year), we will have more information about the exam.
Here are possible test prep paths:
Focus on the ACT
Take the paper SAT & plan to finish testing by December of junior year
Consider waiting to take the digital SAT at the end of junior year as an add-on to previous ACT or paper SAT testing.
What does this mean for the Class of 2026?
There will be a lot more details, and we're sure some changes, to the testing landscape by the time the Class of 2026 is ready for standardized test taking. For now, the Class of 2026 should focus on their GPA, extracurricular activities, and community engagement. The earliest we recommend students take ACT/SAT diagnostic tests is in the spring of their sophomore year.
The Digital SAT Roadmap

Our experts have crafted a few options for testing timelines to help you navigate this upcoming shift in testing formats with minimal disruption to your test prep process. See the roadmap here.
Adaptive testing

One of the biggest changes is that the new SAT will be adaptive. You may have heard this testing buzzword if you've heard college students talk about the GRE or similar tests. But what is adaptive testing? And what does it mean for high schoolers taking the SAT? Below, we answer some common questions about this new test format.
The quick hits of adaptive testing:

The digital SAT will be split into two "modules", and each module will be section adaptive.
Students taking the test will see a set first module—one for Verbal and one for Math.
The difficulty of each Module 2 will be based on the student's accuracy on Module 1.
In order to earn a top score, a student will need to do well enough on Module 1 to take the most difficult Module 2.
What is an adaptive test?

Unlike a paper-and-pencil test, a digital test can adjust based on a student's input—questions shown can be more or less difficult based on previous answers. The digital SAT will be section adaptive. That means that students will see a fixed first section of 22–27 questions. A student's performance on that first module will determine the difficulty level of the second module.
What does adaptive testing mean for scores?

Students will still receive a score out of 1600 on the digital SAT; the same as on the current paper version. They will still receive a score of 800 for Math and 800 for Verbal, which are added to find the composite score.
In general, adaptive scoring is complicated. Question values vary, and combinations of questions can give different point values than the individual questions.

Verbal varies from 0–70 points per question
Math varies from 0–20 points per question

Estimated cutoff for receiving the Lower Difficulty Module in Reading & Writing: 580–630
Estimated cutoff for receiving the Lower Difficulty Module in Math: 520–570
There will be two unscored experimental questions per module.
How should students prepare?

Even though the new digital SAT will be shorter, students will still need to practice and learn all of the concepts that could show up on the exam. Some work will look the same—using and reviewing topics learned at school and practicing those on paper or online. Taking practice tests in a digital format, though, will be key! Getting the feel for adaptive testing and the mindset required to perform under stress will help students bring their best to test day.
Structure & Content of the Digital SAT

In late fall 2022, The College Board released four full-length digital and adaptive SAT practice tests, and ever since then, our experts have been hard at work analyzing those tests to generate a unique test prep curriculum and share insights on how to prepare with our Private Prep families. Below, you can find detailed information on the content and structure of the upcoming digital SAT!
Test Structure

The digital SAT will consist of four total modules: two for Verbal and two for Math.
Verbal Module 1: 27 questions, 32 minutes
Verbal Module 2: 27 questions, 32 minutes

Higher difficulty or lower difficulty, depending on the results of Module 1

BREAK: 10 minutes
Math Module 1: 22 questions, 35 minutes
Math Module 2: 22 questions, 35 minutes

Higher difficulty or lower difficulty, depending on the results of Module 1
Reading & Writing

Unlike the paper SAT, which includes two Verbal sections — one more focused on reading comprehension, and one more focused on grammar — the digital SAT has one Reading & Writing section, in which questions centering on a variety of verbal skills are mixed together.
Each question is accompanied by a passage that ranges in length from a single sentence to a full paragraph. Here are some of the types of questions you can expect to see on the Reading & Writing section of the digital SAT.
Vocab in context: These questions ask students to analyze and compare the points of view of the authors of two different passages.
Purpose: These questions ask students to identify the purpose and impact of a single sentence in a larger passage.
Character: These questions ask students to analyze and summarize information about certain characters based on the information provided about those characters in a passage. Some passages include many characters, requiring students to avoid distractions and focus on the character that the question identifies.
Main idea: These questions ask students to synthesize the main idea or primary purpose of a passage. Students must understand how to discern more extraneous details from a passage's central themes.
Reading graphs & charts: As in the paper SAT, the verbal section of the digital SAT includes some questions that combine reading comprehension with more quantitative skills. Questions like these test a student's ability to correctly interpret graphs and charts and apply that information to a written passage.
Grammar: These questions test a student's grasp of grammatical concepts like punctuation, parts of speech, and proper sentence structure.
Transition: These questions ask a student to select the transition word that most closely reflects the relationship between two sentences or clauses.
Relevance: These questions ask a student to identify the most relevant information in a list of loosely related pieces of information, based on a stated goal.
Math
On the paper SAT, the two Math sections (Calculator and No-Calculator) are further subdivided into multiple choice questions and "grid-in" questions (on which students write in their answers rather than selecting from provided options). Math on the digital SAT will be different in two crucial ways. First, calculators will be allowed on the entire section. Second, the section includes a mixture of multiple choice questions and free-response questions.
That being said, the content areas covered by the digital SAT seems extremely similar to the content areas covered by the paper SAT! Here are some of the content areas you can expect to see on the Math section of the digital SAT.
Exponents & radicals
Exponential vs. linear growth
Expressions
Manipulating & solving equations
Systems of equations
Word problems
Lines
Quadratics
Triangles
Circles
Trigonometry
Probability
Statistics
Built-in tools

The digital version of the SAT comes with several critical tools to ensure all students are equipped to succeed. To be perfectly honest, we wish all of these tools were available on the paper SAT!
Digital timer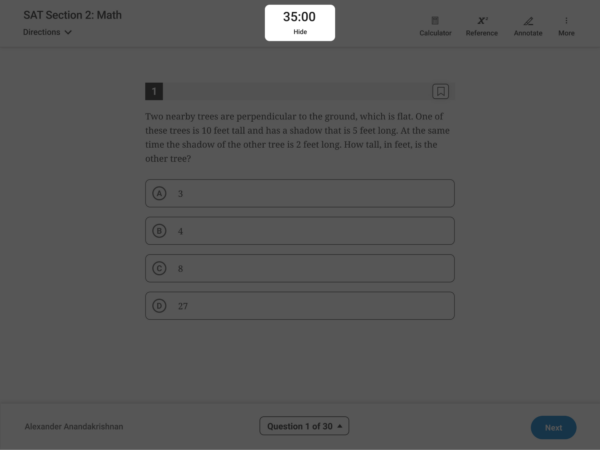 An onscreen timer will ensure more accurate and consistent timing. Students no longer need to rely on a proctor to time them correctly or worry about bringing the right type of watch on test day.
In-app calculator
A graphing calculator is built into the testing app, ensuring everyone has access to the same functionalities. We still recommend students plan to bring their own graphing calculator so they can save time and use something they're more familiar with on test day, but if they don't have access to one or they forget their calculator on test day, it's good to know this is here.
Reference sheet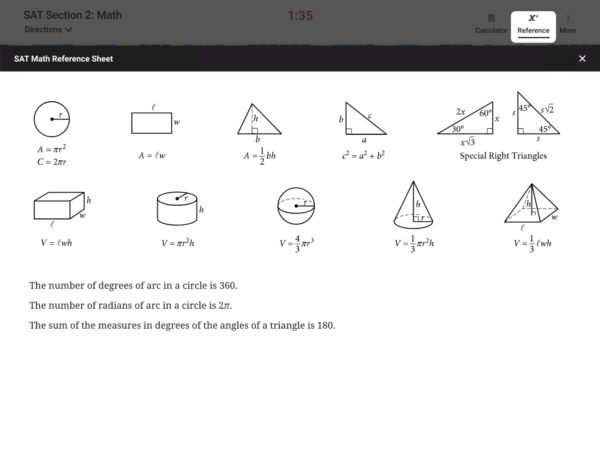 The same math reference sheet that used to appear in the opening pages of the paper SAT is available on the digital SAT.
Elimination function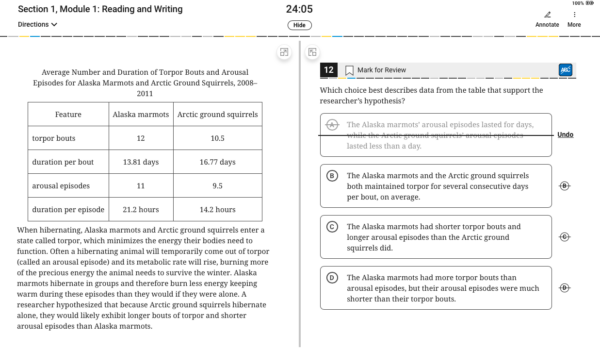 By toggling the elimination button in the top right corner of the question, students can visually eliminate answers that are obviously wrong and hone in on the top contenders.
"Mark for review" function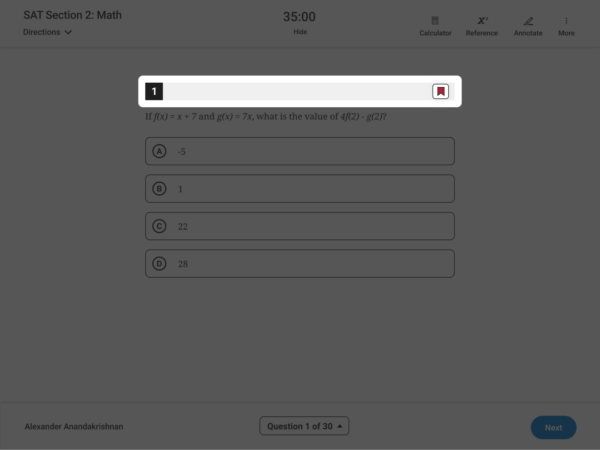 Nervous that you can't draw stars next to questions you want to come back to? Never fear. The digital SAT includes a "mark for review" feature, allowing students to flag questions they want to review later and easily navigate back to these questions.
Our Digital SAT Resources

Need help? Have Questions?
While the SAT is changing, Private Prep's test prep experts are building the tools to help students prepare. Remember, the digital SAT won't be around until the March 2024 SAT in the United States.
We are here to support you!
Contact our Test Prep Team